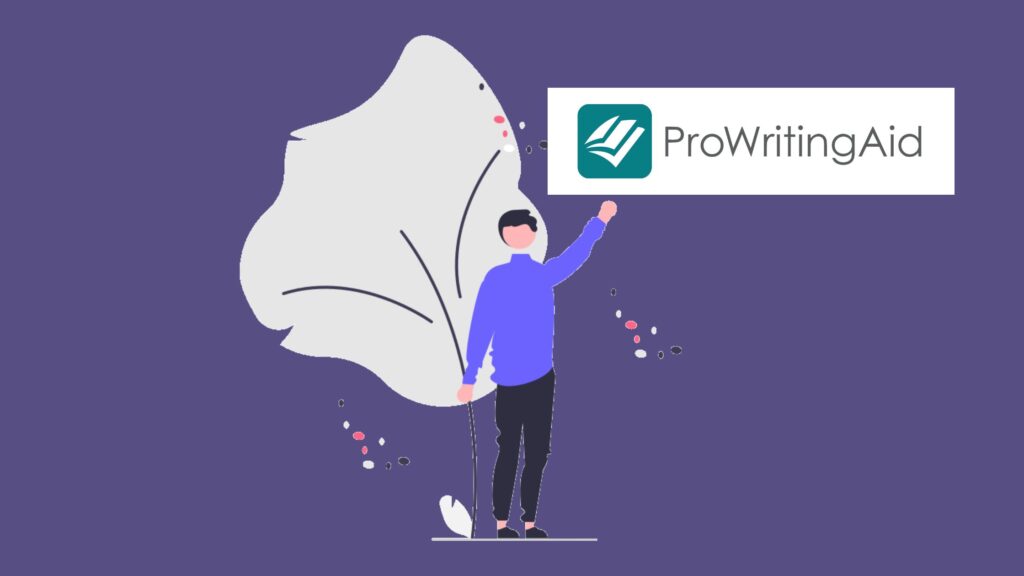 Just be honest here. What comes to your mind when you hear the phrase AI writing software?
Is it tell the software what you want to write and it will spit out the book for you?
If that's your perception of the AI writing software, sad to say that you're only half right about it.
Yes, AI writing software can help you with writing an article, book, screenplay, and even coding.
But remember that these tools are only there to assist you in your writing, nothing else.
Regardless of what you use to do the writing, you still need to edit the work. It's the only way to ensure what you produce is top-notch.
This is where ProWritingAid comes in handy. It can make the editing less of a grueling process.
And not to mention, it can save you time and money too.
What AI writing software, ProWritingAid, is all about
If you take a look at the ProWritingAid website, it says that it's an AI writing assistant for your book.
Not so much about it being AI writing software, eh?
So, what ProWritingAid can do for you if it's not so much about it being AI writing software then?
Like many AI writing software, it can help you with identifying grammatical errors and highlights any sentences that you need to fix to improve your readability.
You can think of ProWritingAid as Grammarly and Hemingway app rolled into one.
What makes ProWritingAid a must-have?
Okay, why do you even need to use ProWritingAid when it can do the same thing as Grammarly and Hemingway app?
The only thing that sets ProWritingAid apart is that it has everything in one place.
To be honest, that's the same thought that I had before I took ProWritingAid for a ride. I have no reason to add another tool to my disposal when the ones that I'm currently using are already good enough.
As you can expect, I changed my mind about ProWritingAid after playing around with it for quite some time.
It even got me to upgrade to the premium version since I find this feature in ProWritingAid to be such a game-changer.
So, which feature in ProWritingAid that I find to be a game changer?
Well, it's none other than its rephrase feature.
Just like the name implied, it's a tool that can rephrase the sentences for you.
All you need to do is to highlight the sentence, click the rephrase button and it can come up with suggestions based on the sentence you highlight.
This is how it looks like if you use the rephrase feature in the free version of ProWritingAid.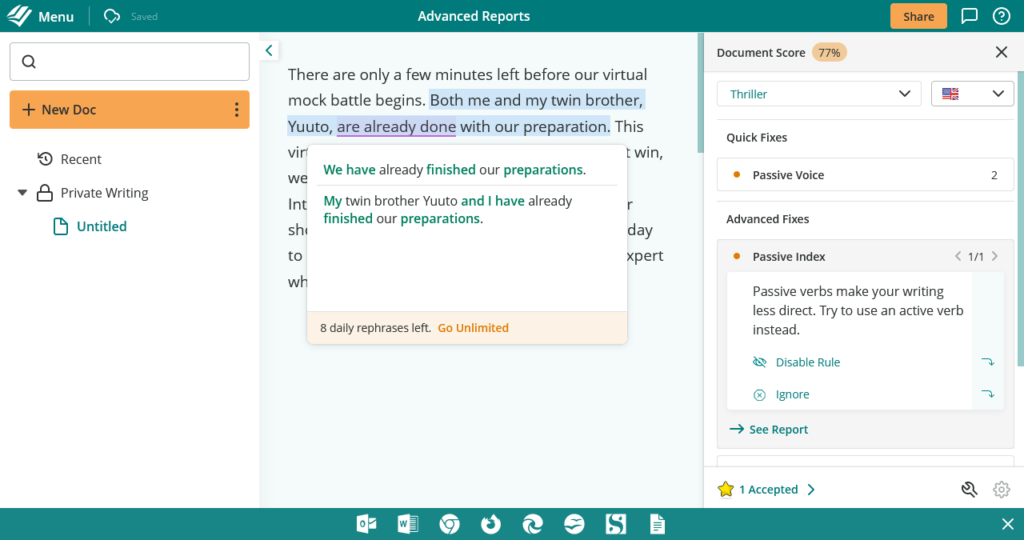 Of course, you'll get more options to rephrase the same sentence if you upgrade to the premium version. And you can use it as many times as you want too since you're limited to 10 rephrases a day in the free version.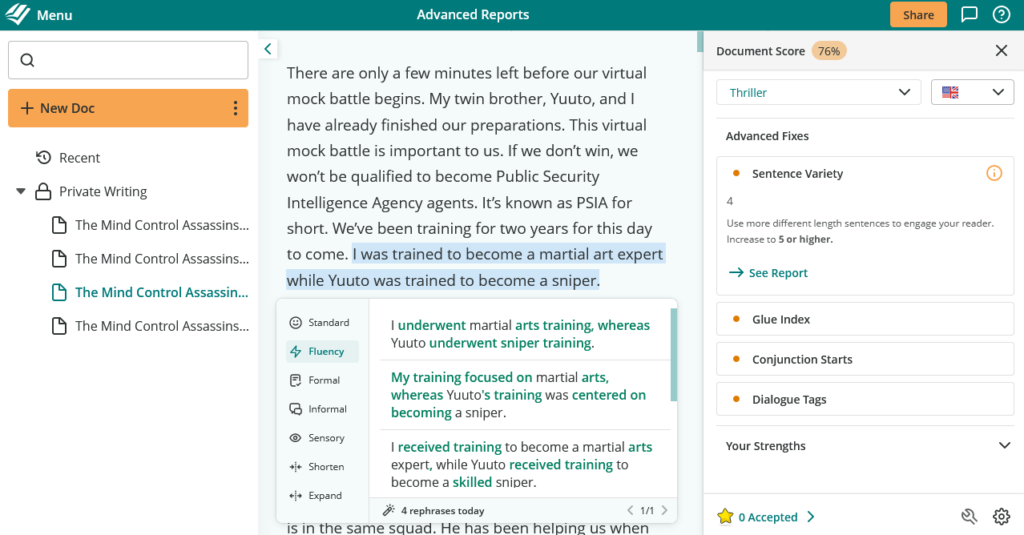 Prefer to change just one word in the sentence? Well, you can do that with ProWritingAid since it's also equipped with a built-in thesaurus.
Just click on the word that you need a synonym for and it will give you synonyms for that word.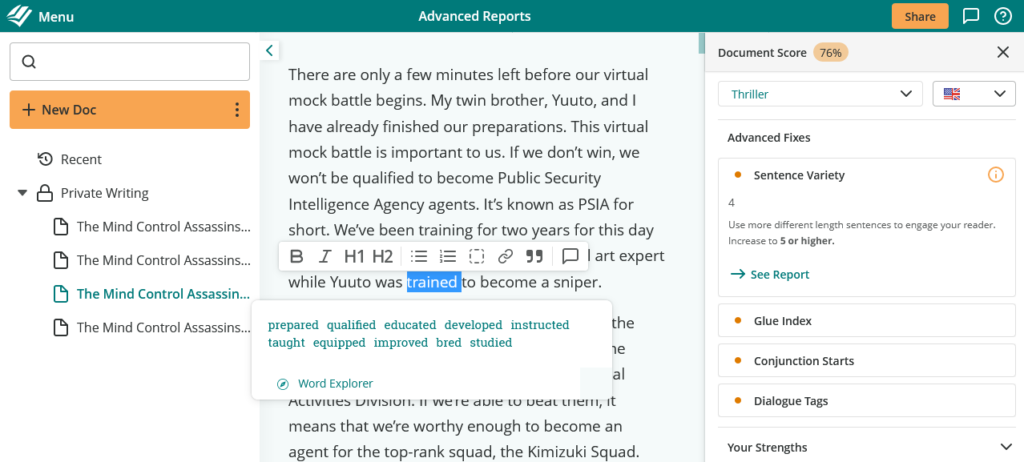 If you're wondering where the AI writing software bit comes into play, I will say it's this one.
What you should know about ProWritingAid
Just like the premium version of Grammarly where you can set it according to the type of writing you do, you can also do the same in ProWritingAid.
But what I love about ProWritingAid is that it goes even further with the type of writing you do.
Take a look at the setting under Creative where you can set ProWritingAid according to the genre you write.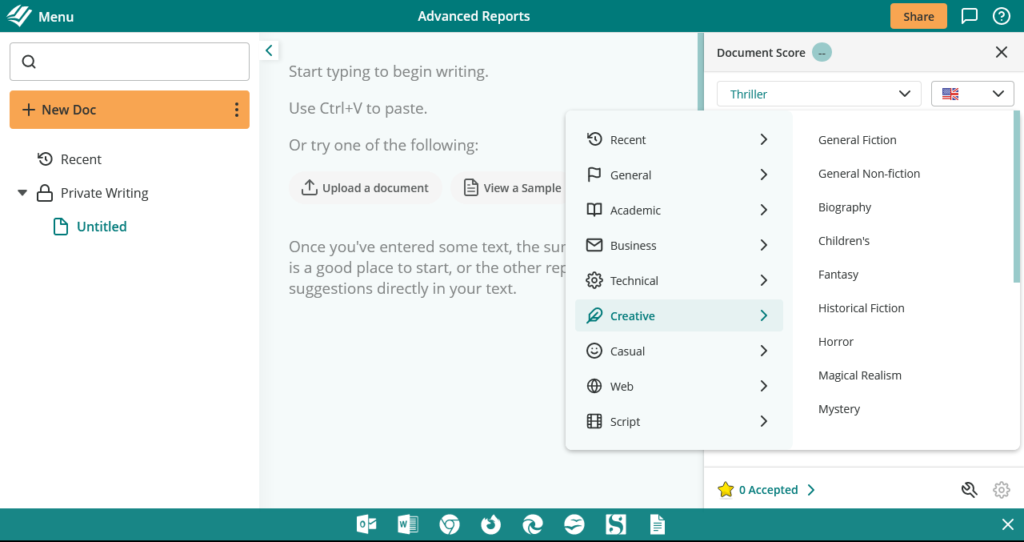 As you can expect, I set the document to thriller since the book that I'm currently working on is in the thriller genre.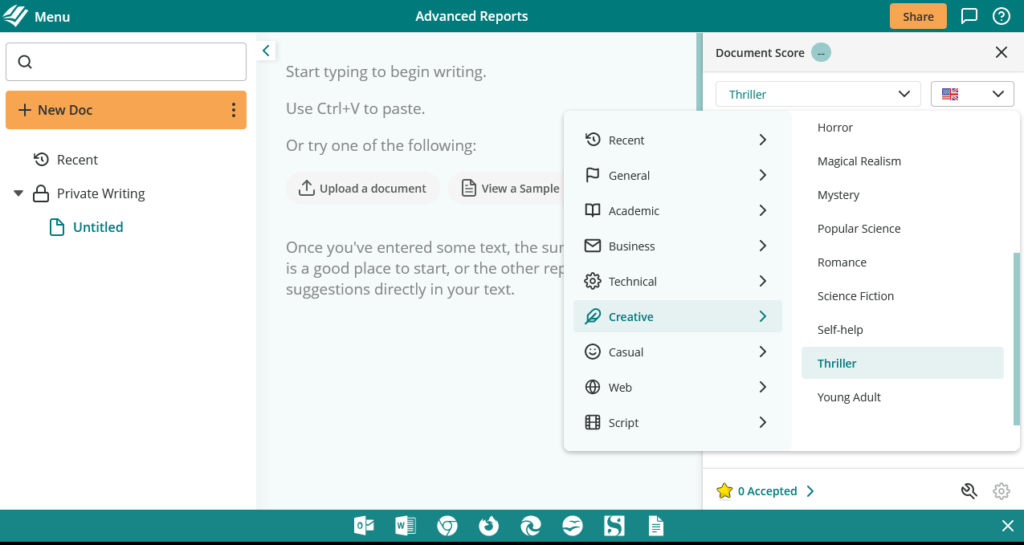 Of course, you can use ProWritingAid for whichever type of writing you do. It doesn't need to be fiction per se.
Heck, you can even use ProWritingAid to help you with writing your dating profile, which is something that I never expect to see.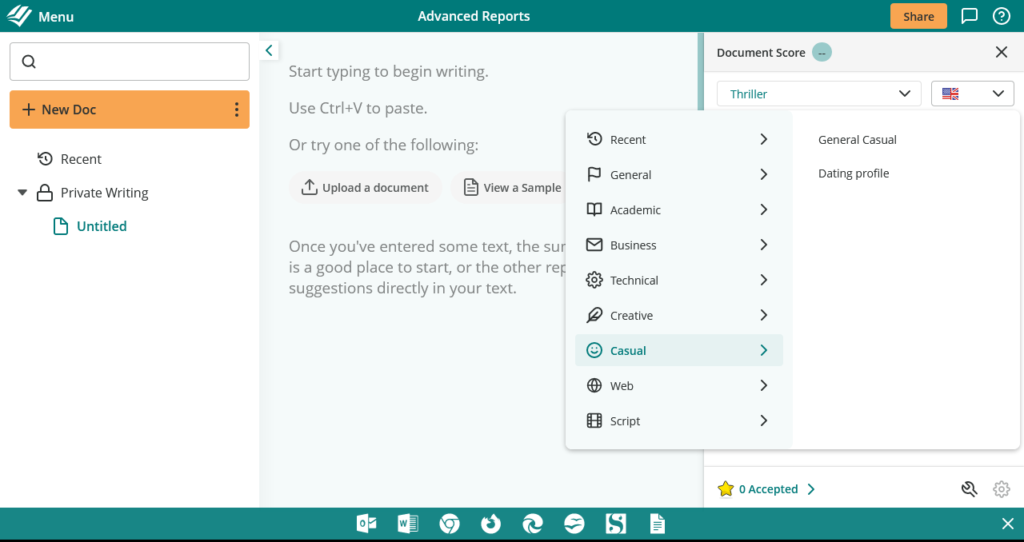 Maybe it's because I assume a tool like ProWritingAid is for professional work, not so much with something that is non-work stuff such as a dating profile.
Another thing to note is that you can use ProWritingAid in whichever tool you use to write, even on Scrivener.
Prefer not to install the ProWritingAid extension or desktop app on your computer? You can use the web app too, which is what I use to work on my book.
Is ProWritingAid right for you?
If you're someone who prefers to have everything in one place, then ProWritingAid got you covered.
Are you like me who has a hard time writing sensory descriptions and adding more varieties to your sentences?
Well, there's no doubt that ProWritingAid can do wonders for you thanks to its rephrase feature.
Even if you already use tools like Grammarly and Hemingway app, I find that ProWritingAid can be a good addition to your writing arsenal.
Of course, one of that has something to do with the rephrase feature.
Another reason is that grammatical errors can still slip under the radar even in ProWritingAid. So, it's best to have Grammarly as your second pair of eyes.
The same goes for the Hemingway app. The same sentence that doesn't get flagged in ProWritingAid will get flagged in the Hemingway app instead.
As much as I prefer to simplify the number of tools I use in my writing, I find that you will still need to rely on more than one tool to polish your manuscript before publication.
I'll go in-depth on how you can systematically incorporate these tools in the future blog post.
But for now, you can sign up with ProWritingAid for free right here if you're interested in giving it a try:
Sign up with ProWritingAid here – no credit card is required
Use the coupon code HONEY20 to get 20% off on your preferred plan.
Whether ProWritingAid is something that you need later on or not, I highly recommend that you give it a try and see it for yourself.
You'll never know that it can be a game changer for you just as much as it did for me.
P.S. Love using Twitter to connect with your readers but finds it to be time-suck? Take a look at my Twitter Marketing for Business guide to learn how you can use Twitter without taking too much of your time.
You can learn more about the guide right here on my Payhip store:
Twitter Marketing for Business Guide on Payhip
Don't forget to use the coupon code THEEFFICIENTYOUBLOG to get 20% off on your purchase.
Love what The Efficient You has to offer?
If you find any of the guides or posts on this website useful, consider supporting me on Buy Me a Coffee. With a one-time minimum fee of $5, I can continue to provide more free resources for people like you who'd like to become full-time authors. You can also support this website monthly or annually if you feel generous. Any amounts count!