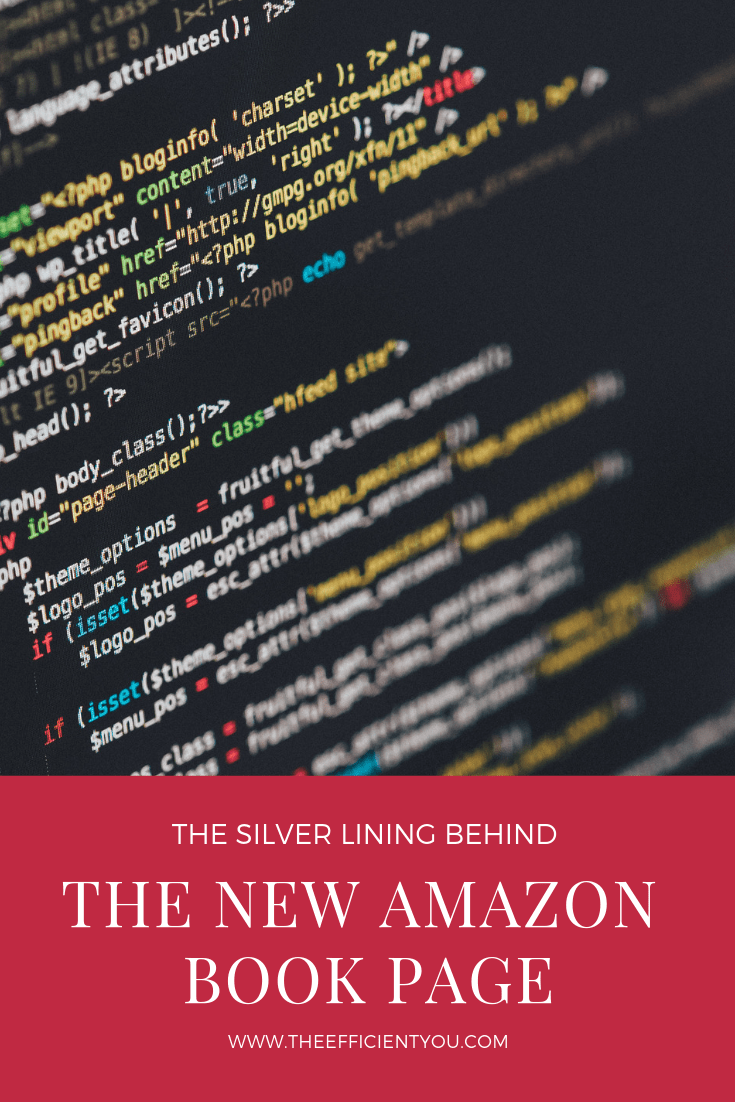 The news about Amazon rolling out the new Amazon book page has been going around for quite some time already.
But it only became noticeable recently after so many authors saying that they began to see these changes on their book page.
Back then, it was only a handful of them who saw these changes.
But now, everyone is seeing the same thing, myself included.
The obvious change in the Amazon book page
In case you don't know or didn't notice at all, the brand new Amazon book page no longer has the Also Bought section.
Instead, we have ads below the book detail. That can be a good news if you're using Amazon ads to promote your book since there's a high chance that your book will be included in the ad section of the book page. That is if your book is in the same genre as the one on the book page.
If you don't, then tough luck. It's either you have to pay to promote your book or think of another way to drive traffic to your book page.
The silver lining behind the change
While some people see this change as catastrophic, I don't see it as a doom and gloom scenario.
Sure, I have to admit that my permafree book downloads and my book sales are going downhill because of the recent change.
But it doesn't mean that there's nothing we can do about it on our side.
With that said, here's what you can do to steer the book sales to your way.
It's time for you to learn how to use paid ads
I get that you don't want to spend money on promoting your books. But if you want to make a living from your writing, paid ads are one of the best ways for you to generate the book sales you desire.
You don't need a huge budget to use paid ads. But you have to learn how to do it right since paid ads can suck the money out of you if you're not careful.
Most authors that I know recommend using Amazon ads since it doesn't cost as much as Facebook ads.
If you're new to paid ads like me, then perhaps you should give Amazon ads a try.
Apart from that, Amazon ads are more likely to convert since people who see your ads on Amazon are already in the buyer mindset.
There are many factors that can contribute to your ad conversion. So, you need to test it out as much as you can just to find out which ad copy gives you the best result.
Consider going wide
Consider having your books available on other retailers if your books are in KDP Select. Sure, you won't make much once you leave KDP Select. But at least you can rest assure that you don't have to depend solely on Amazon for your book sales.
If you're like me who already going wide, let your readers know that your books are also available at other retailers as well.
You can use an ebook aggregator such as Smashwords and Draft2Digital to distribute your books to other retailers. That should save you the hassle of managing your books.
I already have my books available on other retailers through Smashwords. But I'm also thinking of distributing my books to retailers that are not in Smashwords distribution channel.
I'm planning to do it in 2019.
Sell directly to your readers
For me, this is the biggest takeaway that I see from the recent change on the Amazon book page.
If you want a full control of your readers and your income, then it doesn't hurt to consider selling your books directly to your readers.
That's the reason why it's important for you to have an author website. Not only you can use it to build your mailing list, but you can also use it to sell your books directly to your website.
Fret not if you don't have an author website yet. You can still sell your books directly to your readers without an author website.
If you've been reading my blog, you're already aware of my plan to sell my books directly to my readers. So, expect to hear a lot about my experience with going direct.
I will still focus on promoting my books on other retailers. But direct sales will be my most priority going forward.
It's not as bad as it seems
Let's just face it. This isn't the first time Amazon is making changes on their website. Heck, they do it pretty much all the time that I lost count on all the changes they did for the past few years.
I can't say for sure what Amazon will do next. But as long as you focus on being in control of your author business, these changes won't impact you that much.
Business environment changes all the time. So, don't let these recent changes upset you.