For many of us, an online paraphrasing tool is such a game-changer.
All you need to do is to highlight the sentence that you want to rephrase and let the online paraphrasing tool works its magic for you.
The result? You'll get a different sentence that sounds natural while still retaining your voice.
If it sounds like pure sorcery to you, it sure does feel like that.
Of course, you can set the paraphrase tool just to mimic a famous author, dead or alive.
But as an author, I'm sure that retaining your own voice tops everything. You certainly don't want your book to sound like someone else writes the book, do you?
When it comes to an online paraphrasing tool, my favorite will always be ProWritingAid.
As you can tell, ProWritingAid isn't the only player in town when it comes to an online paraphrasing tool.
We also have Quillbot which works the same way as ProWritingAid but comes with other cool features as well.
A note about the online paraphrasing tool, Quillbot
As you can already tell, everything that I share in this post is based on the free version of Quillbot.
So, I can't say for sure how the other features will fare considering that some features are only available in the premium version.
And let's not forget the speed at which Quillbot provides suggestions for you.
From what I can tell, I didn't experience any delay whenever I use any feature that requires Quillbot to provide suggestions.
One of the reasons can be because due to my not relying on Quillbot that much during my writing process.
This is another thing that I can't comment on since my Quillbot usage is rather minimal.
My thought about Quillbot
I won't deny that Quillbot is similar to ProWritingAid in many different ways.
Just like ProWritingAid, Quillbot also has a paraphraser, grammar checker, and plagiarism checker.
The only difference is that it also comes with other tools such as a summarizer, citation generator, translator, and co-writer.
I can't say for sure how good the plagiarism checker is since it's only available in the premium version of Quillbot.
And I can't say much about the summarizer, citation generator, and translator either since these features are irrelevant to the type of writing I'm doing.
So, I can't comment on that.
But the two things that caught my attention about Quillbot are its paraphrase and the co-writer tool.
I'll talk more in detail about the co-writer tool in a moment.
Suffice it to say the paraphrasing tool in Quillbot works the same way as the one in ProWritingAid where you can set the paraphrasing tool into standard, fluency, formal, simple, creative, expand and shorten mode.
This is how it looks like if you paraphrase the sentence in the standard mode.
And this is how it looks if you paraphrase the same sentence in fluency mode.
I can't say for sure how the other modes work since you can only set the tool to standard or fluency mode in the free version.
But I'm guessing the creative mode is similar to sensory rephrasing in ProWritingAid.
The cool thing about the paraphrasing tool in Quillbot is that you can set it to include as many synonyms as possible.
But I prefer to set it to low since I find the writing sounds much better when you don't go crazy with synonyms.
For comparison, you can take a look at how the same sentence fares when you set the synonym higher. You'll be the judge of which one is better.
This is the same sentence using the paraphrasing tool in fluency mode with a low setting on synonyms. And the other one is when you set the synonyms setting to medium.
Out of many combinations that I tried, I find that setting the tool in the fluency mode with low synonyms setting makes your writing sounds better.
What you should know about Quillbot
On the surface, you may think that Quillbot tends to benefit more if you're writing a research paper or nonfiction book.
So, it's not going to benefit you that much if you write fiction.
Well, you're not wrong to think that way considering what Quillbot has to offer.
Try using the Suggest Text feature in Co-Writer and all you get is a strange suggestion. That doesn't look helpful, right?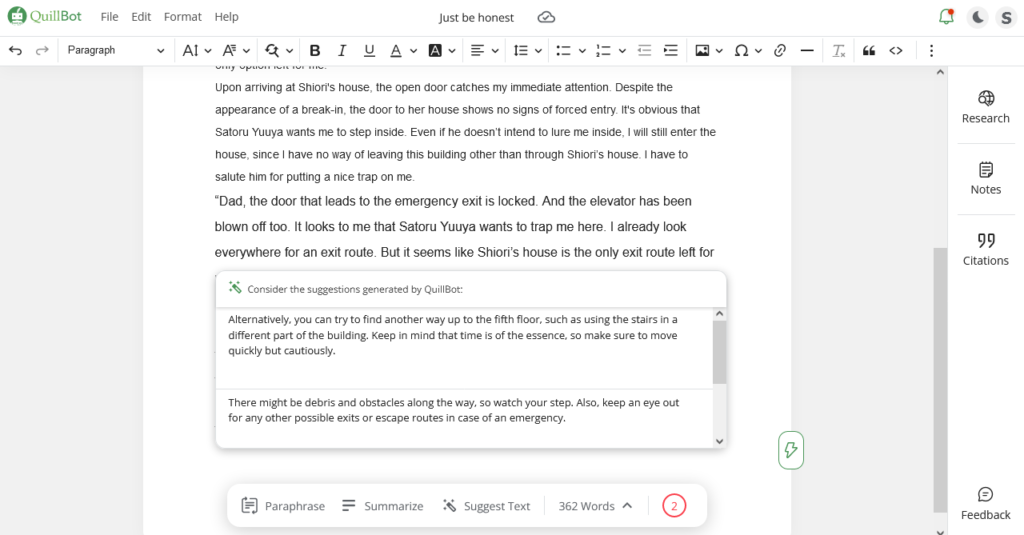 Even the Generate Ideas feature doesn't account for the fact that you're writing fiction.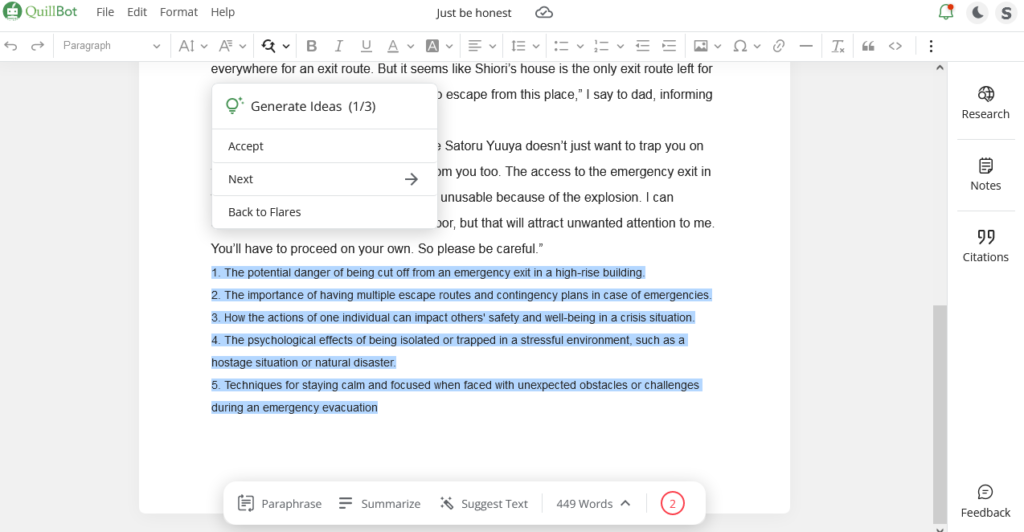 The same goes for the Complete Paragraph feature. The suggestion sounds more like it's summarizing what the character is experiencing during that scene rather than giving you a suggestion on how to continue the story from there.
But guess what? It turns out that I got everything wrong all along.
The feature that I should be using is the Start New Paragraph feature instead. And the result doesn't disappoint either.
Here's how it turns out when I use the Start New Paragraph feature in Quillbot to help me with writing the next paragraph.
What do you think? It doesn't sound too bad, right? I should say that I'm impressed since it can flash out the next paragraph way better and faster than what I could've done myself.
Of course, I didn't take the whole suggested paragraph since it got a few things wrong.
But despite the mistakes, I still find the suggestion rather impressive.
This feature is worth considering if you're stuck and you need ideas on how you can move the story going forward.
You'll never know that it may come up with suggestions that may not cross your mind.
Who should be using Quillbot
Believe it or not, Quillbot is perfect for writers of any kind whether you write a research paper or fiction.
Heck, you can even use it for short writing such as a blog post.
Of course, those who write research papers and nonfiction books benefit more from Quillbot because of its summarizer, plagiarism checker, and citation generator tools.
But you can tell that it works for fiction writers too based on what I just did.
If you're looking for an all-in-one writing tool that caters to all kinds of writers, then Quillbot is for you.
Will I be upgrading to the premium version of Quillbot
I will say yes. While I admit that my reason for wanting to upgrade to the premium version may have something to do with how impressive I am with the Co-Writer tool, I find that you can do so many things with Quillbot, not just long-form writing.
Remember the Generate Ideas feature that gives me a ridiculous suggestion? You can use it to come up with an outline for a blog post, main chapter, or sub-chapter.
So when do I plan to upgrade to the premium version now that I have the intention to do so?
To be honest, I'm not sure yet. All I can say is I'm excited to share with you how you can fully utilize Quillbot in your writing.
And if you're interested in giving Quillbot a try, you can sign up for Quillbot right here:
P.S. Do you find connecting with your readers on Twitter takes too much of your time and you're looking for ways to manage your presence on Twitter effectively?
If that's you, then you may find all the tips and tricks that I use to manage my presence on Twitter helpful with my guide, Twitter Marketing for Business.
Interested in getting the guide? You can get the guide right here on my Payhip store:
Buy Twitter Marketing for Business guide
Use the coupon code THEEFFICIENTYOUBLOG to get 20% off on your purchase.
Love what The Efficient You has to offer?
If you find any of the guides or posts on this website useful, consider supporting me on Buy Me a Coffee. With a one-time minimum fee of $5, I can continue to provide more free resources for people like you who'd like to become full-time authors. You can also support this website monthly or annually if you feel generous. Any amounts count!