What comes to your mind when you hear about free book editing software? Do you think it can make hiring an editor becomes a relic of the past?
If that's what you have in mind, then I have bad news for you.
Editing software of any kind isn't going to replace the editor completely, at least for now.
You still need an editor to check for any plot loopholes, character development, and other stuff related to the story structure.
These tools can't do any of those things no matter how sophisticated they are.
If you still need to hire an editor, then why bother using editing software at all?
You can just ask the editor to do everything for you, right?
Well, you're right about that.
But if you want the editor to spend more time focusing on your story structure instead of having to fix the typos and sentence structure, then it helps to use editing software first before you send your manuscript to your editor.
What's more, it can save you on the editing cost too.
Remember that you have to pay an hourly rate to the editor. You can save a lot on the editing cost if you can fix the errors yourself first before you send it to the editor for structural issues.
Ask any authors which part of the publishing process cost them the most money, they will all say that it's the editing that costs them the most.
This is where free book editing software like Hemingway App comes into play.
It can make doing line editing easier, especially for those who have no technical background in doing line editing.
What is Hemingway App
In a nutshell, it's a free book editing software that can help you with doing line editing for your book.
With Hemingway App, it can identify any sentences that require you to fix, adverbs and passive voice in your manuscript.
This is what it looks like when I use Hemingway App to do line editing for one of the chapters in my book.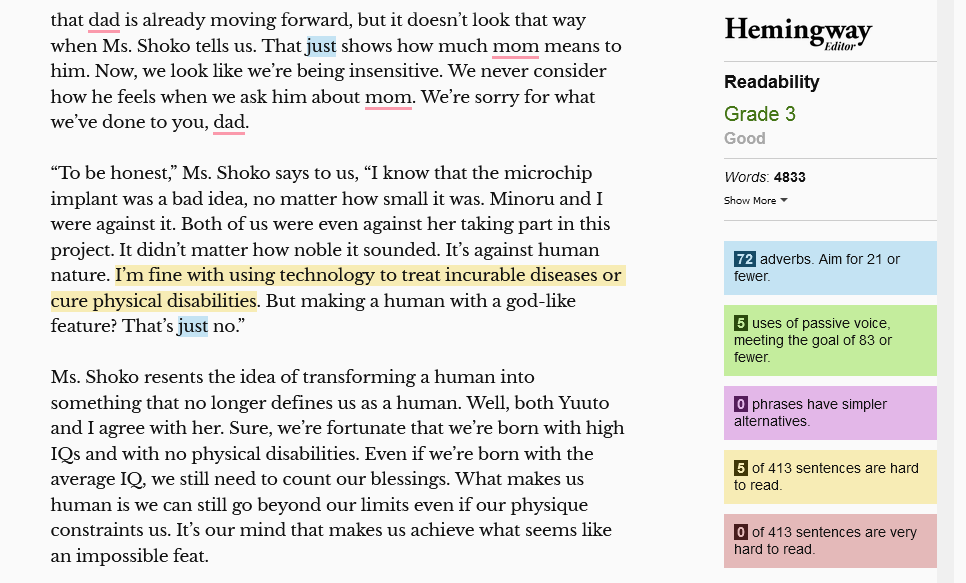 As you can see here, not only that it can detect the sentence that is hard to read and other issues in my manuscript. But it can also identify the grade level of my writing too.
This is useful since you don't want your book to be hard to read even if your audience is mainly adults.
Another thing to note is that you can use Hemingway App to write your book too. Just enable the write mode and those pesky highlights will disappear after that.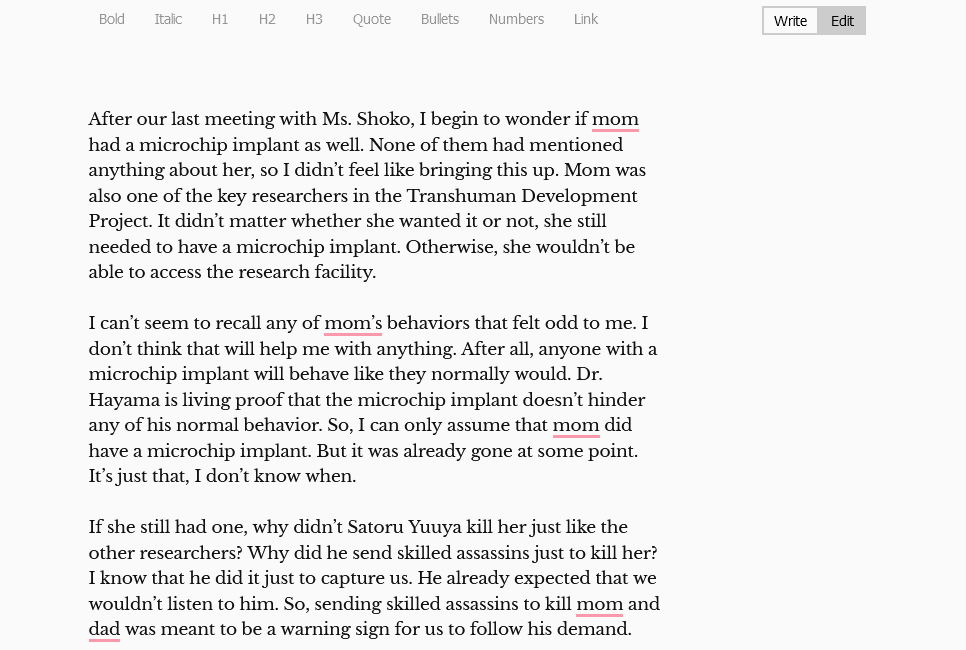 You can now focus on your writing without having those highlights distracting you. If you're like me who have Grammarly enabled, then you may still see it even in the write mode.
But for me, I didn't find it as distracting as those colorful highlights.
What makes a free book editing software like Hemingway App a must-have for authors
Let's be real here. Not all authors have a deeper understanding when it comes to the technical aspect of sentence structure.
And even if you do, you tend to be blind to your own errors, anyway.
That's where book editing software like the Hemingway App comes in.
It can help you with identifying the sentence structures that you need to correct to make the reading experience a pleasant one.
Have issues with using too many adverbs and passive voice? It can help you with that too.
Sure, knowing what words are adverbs and which sentences are passive voice isn't that hard to grasp.
But believe me, you're still blind to those issues despite being familiar with adverbs and passive voice.
If errors tend to slip under the radar no matter how nitpicky you are with your manuscript, then I highly suggest that you incorporate software in your editing process.
The editor in you will thank you for it.
What you should know about the Hemingway App
While it's good to know that Hemingway App will identify which sentences that are hard to read in your manuscript, you have to fix those errors manually, though.
It doesn't have a fancy feature like fixing errors with a click of a button.
Well, at least for fixing the sentence structure and removing the passive voice in the sentence. There is a click of a button for removing adverbs, though.
The good news is it's not that hard to fix those errors since the only thing you need to do is to break it down into shorter sentences to make those pesky yellow highlights go away.
But often time, you will have to do beyond breaking the long sentences into a bunch of short sentences.
Depending on the issue, you may have to take a look at the other sentence and fix it accordingly. For all you know, you will have to rewrite the whole paragraph just to solve the issue.
Just like any other editing software, you're free to ignore the errors if you want to. You don't have to accept the errors if you have no clue how to fix them all.
But I don't recommend that you ignore them only because you refuse to fix those errors. There's a reason why the Hemingway App is flagging those issues in your manuscript.
And fixing those issues will improve your manuscript's readability. It can even reduce your grade level too, the more you do it.
Another thing to note is that Hemingway App doesn't come with a grammar checker. So, you will need to rely on Grammarly to do the grammar and typo checking for you.
But other than that, it works amazingly well despite being a free book editing software.
Is Hemingway App right for you?
If you're looking for book editing software that is easy to use, then Hemingway App has you covered.
Sure, you will have to fix those errors yourself since it doesn't have a click-of-a-button solution. But that's okay since some errors aren't that hard to fix.
Not a fan of using the web app?
Well, there's a desktop app if you prefer to use Hemingway App to do the line editing offline and you want to upload your file to Hemingway App.
But you will need to upgrade if you want to use a desktop app, though. The good news is it doesn't cost you an arm and leg which I find to be a steal if you ask me.
Want to give Hemingway App a test drive? You can take a look at the app yourself right here:
Do line editing for your manuscript with the Hemingway App
P.S. Do you love to share behind the scenes of your book publishing journey with your readers on Twitter?
If that's you, then you already know how time-suck Twitter can be if you're not careful.
The good news is you can manage your time on Twitter with the right strategy.
If it's something that you need help with, you can learn all that with my Twitter Marketing for Business guide.
You can take a look at the guide on my Payhip store right here to learn more:
Twitter Marketing for Business guide on Payhip
Don't forget to use the coupon code THEEFFICIENTYOUBLOG to get 20% off on your purchase.
Love what The Efficient You has to offer?
If you find any of the guides or posts on this website useful, consider supporting me on Buy Me a Coffee. With a one-time minimum fee of $5, I can continue to provide more free resources for people like you who'd like to become full-time authors. You can also support this website monthly or annually if you feel generous. Any amounts count!