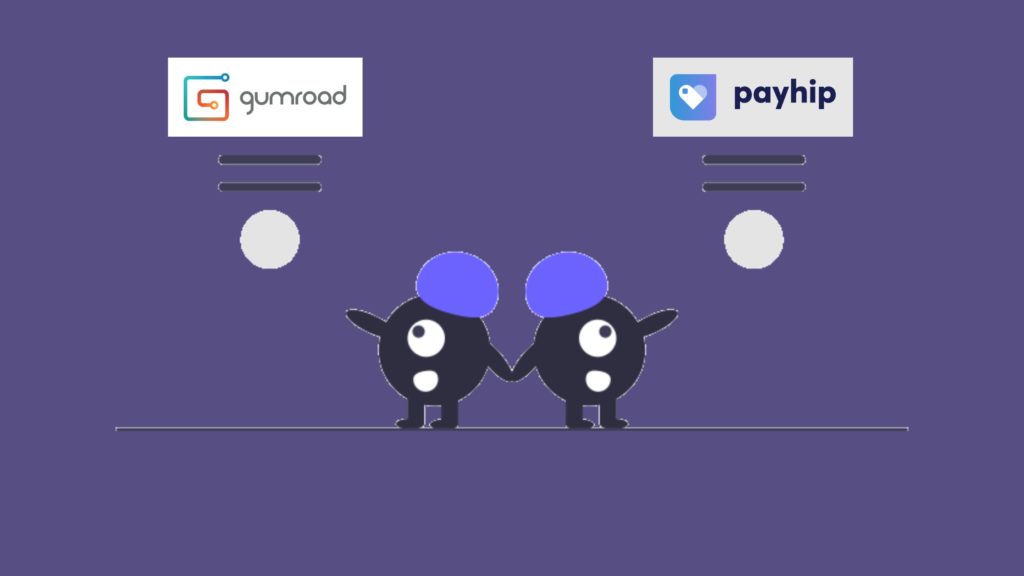 Payhip vs. Gumroad. Which one you should use if you want to sell your books directly to your readers?
That's a valid question to ask when you're new to selling direct.
While both Payhip and Gumroad are easy to get started, you still need to be sure that it's the solution that you want to stick around for the long term.
The last thing you want is for you to switch to a different platform only because it doesn't work well for your author business.
Well, that was what happened to me when I decided to switch to Payhip after years of using Gumroad.
Back then, I didn't know any better. I thought that what I used won't make any difference since both of them work the same.
It was only when I started to dig deeper into Payhip that I notice that Payhip offers so much more than Gumroad does.
Thus, my decision to switch to Payhip.
While it was only recently that I started using Payhip on The Efficient You, I've already used Payhip for quite some time on my fiction author website, Sekina Mayu.
You can say that I have a lot to say when it comes to Payhip vs. Gumroad debacle.
Payhip vs. Gumroad: The similarities that both of them have
What draws me to Gumroad and Payhip in the first place is that it's free to use.
The only caveat is that you have to pay for the transaction fee which isn't that much.
Well, at least when you compare it to the percentage that Amazon takes after you make a sale.
If you're using Payhip, they will charge 5% for the transaction fee. And as for Gumroad, the transaction fee is 9% + 30 cents.
The good news is you can get much lower to zero transaction fees when you sign up for Payhip's paid plans.
But as for Gumroad, you can get a much lower transaction fee when you sell more.
How low the transaction fee will become?
If your earnings are more than $100,000, the transaction fee will be 3% + 30 cents. And if you're making 7-figure in earnings, then the transaction fee will be 2.9% + 30 cents.
Another thing that I like about Payhip and Gumroad?
They will handle VAT and other taxes for you.
Wondering what else Payhip can do for you? Find out more about Payhip right here:
Why I decided to switch to Payhip after using Gumroad for so long
As much as I enjoy using Gumroad, there are a few things about Gumroad that I'm not fond of. Here are some of them.
The transaction fee isn't as cheap as you thought
If you want to pay zero transaction fees on Payhip, then you need to opt for their Pro plan which will cost you $99 per month.
That can be a bummer for those who don't like to pay a monthly fee.
But when you compare it with Gumroad, you still need to pay 2.9% + 30 cents for the transaction fee.
Imagine if you're making $100,000 in sales. So, your transaction fee will be 3% + 30 cents according to Gumroad.
When your transaction fee is 3% + 30 cents, it means that you'll be paying around $3000 for the transaction fee alone.
Compare that to the $99 monthly fee that you have to pay to Payhip, that's a lot.
This is a no-brainer answer to Payhip vs. Gumroad debacle. It's obvious that Payhip wins hands down.
The payment threshold
It's already bad enough that the transaction fee on Gumroad is higher than the transaction fee on Payhip.
And now you need to meet the minimum threshold of $10 just to get paid.
The worst part?
Even if you meet the minimum threshold, they will only issue the payout on Friday weekly.
If you need the money right now, you're not going to get it until Friday.
Maybe having to meet the minimum threshold isn't so bad if the price of the items you sell is more than $10.
But for many authors, the books tend to cost less than $10 since that's the price they set on other retailers.
So, it doesn't make sense to price the book higher only because you want to meet the minimum threshold for the payout issuance.
It's a different story if you include other bonuses with the book to justify the price.
While that may not be that hard to do for nonfiction, it can be a little tricky for fiction since most readers aren't going to care about spending extra money unless they're your super fans.
At the very least, you can rest assured with Payhip since they don't have a minimum threshold.
You'll get paid as soon as people make a purchase on your Payhip store.
The marketing tools are pretty limited on Gumroad
This is another reason that got me to switch to Payhip.
Unlike Gumroad, Payhip has so many tools that you can use to increase your sales.
Apart from discount code issuance, you can also use other tools to increase your sales such as upselling, referring a friend, and unlocking a discount when people share the product on Facebook.
You can't do any of that on Gumroad. The only thing you can do is create a discount code for a specific product if your goal is to increase sales.
But I find that nothing beats using an upsell since it happens automatically whenever people are buying a certain product in the store.
I always know the power of upselling. But I never thought that it would be this effective until I've seen it myself.
The things that Payhip doesn't have but Gumroad has
As much as I love Payhip, there are other things that Payhip doesn't have but Gumroad has. Here are some of them.
No product variation setting on the product page
It's not that hard to set the product variation on Gumroad since you can do that within the product page.
But you can't do the same on the Payhip product listing, though.
If you're selling a sweater with a different color, then you have to create a separate product listing but with a different color instead.
That's the only way to go about it when you can't set the product variation on Payhip.
While that may seem like a deal breaker for some people, that's not an issue for me since this feature isn't necessary for me.
I'm fine with the readers getting all formats for the books when they buy from me.
No pre-order feature
Back then, not being able to set a pre-order on my Payhip store is a deal breaker to me.
But after seeing how Joanna Penn released her book on her Shopify store first and set a pre-order date for the book on other stores, it makes me think that I can do the same.
Rather than setting up a pre-order on every store including my own store, I can have the book available right away on my store and set the pre-order date elsewhere.
So, I'm fine with not having a pre-order feature.
Am I abandoning Gumroad for good?
Strange but true, I don't plan to abandon Gumroad just yet. The reason for that has something to do with Gumroad Discover.
Think of Gumroad Discover as something similar to Etsy where you get to buy products from creators who are selling on Gumroad.
While you can bring more exposure to your books on a marketplace like Gumroad Discover, I doubt that it has the same star power as Etsy.
So, don't put so much hope on it that people will discover your books on Gumroad Discover. Most people won't think about going to Gumroad Discover if they want to look for something.
You also need to keep in mind that only people who are thinking about using Gumroad will only stumble upon Gumroad Discover.
Let's not forget that Gumroad will charge an additional 10% of the transaction fee for any sale that you made through Gumroad Discover. And the normal transaction fee still applies.
That means you have to pay almost 20% of the transaction fee alone.
Will I be switching to something else in the future?
To be honest, I won't be surprised that I may switch to a different solution somewhere down the road. But for now, I'm happy with the current arrangement.
If I ever make any changes to how I'm selling direct, you can expect to hear about it on this blog for sure.
And if you think that Payhip is the right solution for your author business, you can learn more about it right here:
P.S Just because you have an online store on Payhip or Gumroad, it doesn't mean that people will come flocking to your online store and buy your books.
You still need to do some marketing to let people know that your readers can buy from you directly.
Love using Twitter to connect with your readers and want to take your Twitter marketing to the next level?
If that's you, then you're going to love my Twitter Marketing For Business guide.
This guide covers everything you need to know about Twitter marketing from setting up a Twitter profile that attracts the right readers to maintaining your Twitter presence without selling your soul.
Interested in getting the guide? You can buy the guide right here on my Payhip store:
Buy Twitter Marketing For Business guide
Don't forget to use the coupon code THEEFFICIENTYOUBLOG to save 20% off on your purchase.
Love what The Efficient You has to offer?
If you find any of the guides or posts on this website useful, consider supporting me on Buy Me a Coffee. With a one-time minimum fee of $5, I can continue to provide more free resources for people like you who'd like to become full-time authors. You can also support this website monthly or annually if you feel generous. Any amounts count!