SEO keyword research tool is a must-have if you have a website and you want to optimize it for the search engine.
Sure, you can use any possible keyword that your target audience uses to optimize your website.
Just pick the keyword based on the suggestion from Google, use that keyword to optimize your website and you're all set.
And what if you're using WordPress? Well, you can make the whole process less of guesswork by using a plugin like Yoast SEO.
But here's the thing about this SEO stuff. Optimizing your website with the keyword doesn't guarantee that it will bring massive traffic to your website.
Yes, even with the right keyword.
There's more to it than finding the keyword that your target audience is using when they search for something online.
You need to know if people do use that keyword or not when they type on Google. And if you're hoping to convert that same traffic into sales, you need to be sure that it's a profitable keyword.
Any keyword that has zero cost-per-click (CPC) isn't going to cut it.
Of course, these aren't the only thing that you need to consider.
You need to be sure that the keyword that you use will lead to people clicking on the search result.
The last thing you want is to optimize your website using a keyword that nobody is using, let alone clicking on it.
Pretty much any SEO keyword research tool out there can give you this sort of information.
But if you want something more elaborate, Ubersuggest is your answer.
A note about the SEO keyword research tool, Ubersuggest
As you can see here, what I share with you about Ubersuggest in this post is based on the free version.
So, you may not get to see all the features that Ubersuggest has to offer unless you sign up for any of their paid plans.
Of course, you can use Ubersuggest for free without having to sign up for the paid plan.
Heck, you don't even need to sign up for the free account too if you only want to do keyword research and you don't need anything else.
But you can only use it to do keyword research up to three keywords a day, though.
If you want to do more than that, you will need to upgrade or come back again the next day to continue with your keyword research.
And the limit is still up to three keywords a day. Come back again and your keyword limit will reset to zero.
My thought about Ubersuggest
On the surface, Ubersuggest isn't that much different from many SEO keyword research tools out there, be it free or paid.
Just like any other keyword research tool out there, it can help you with identifying profitable keywords for your website.
And if you're curious about the search volume and trend for the said keyword over the years, it will illustrate the trend and volumes over the years for you.
Here's what it looks like when I'm doing keyword research about the Nier Automata anime for my fiction author blog.
Of course, you can only see the recent data for the trend and search volume in the free version.
Even with the free version, I find that the data is useful since you can see the search volume not just for the desktop search. But you can see the search volume for the mobile search too.
See the section where it says 4,263 people click on the SEO results?
This is what I love about Ubersuggest. Not only that you know whether the keyword you want to use will generate clicks or not.
But you also get to know which age range is more likely to use the search term.
This data comes in handy if you're targeting a specific group based on the keyword that they use.
It's sad that these parts of Ubersuggest get locked behind the paywall since this feature isn't a premium feature until a year or two ago.
But hey, you can still see a glimpse of the data even if you don't upgrade to the paid plan.
The only thing you can't see is the number. That's fine with me since I only need to know how many people will click on the search result and the searchers' age.
The rest of the information doesn't matter that much to me.
What you should know about Ubersuggest
When you think of a tool like Ubersuggest, you may think that the only thing it can do is find profitable and clickable keywords.
Well, you're not wrong about that since that's the main feature of an SEO keyword research tool.
But here's the thing about Ubersuggest – it can do so much more than find profitable and clickable keywords for you.
It can do things like identifying the pages on your website that you need to fix to improve your search ranking.
This is the analysis that comes out from Ubersuggest once it finishes crawling on The Efficient You website.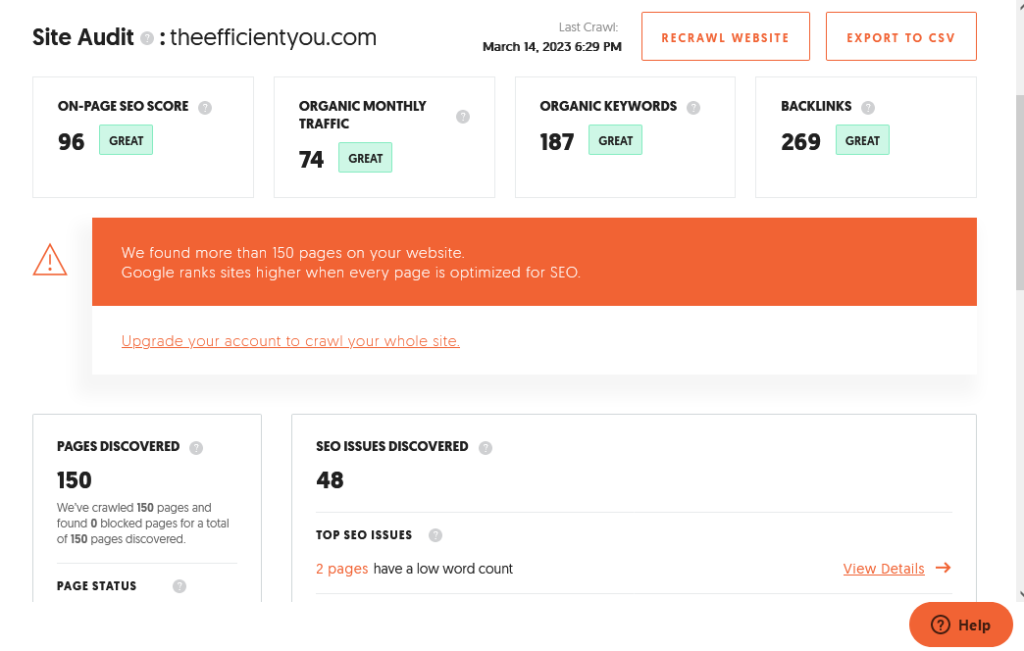 As you can expect, the crawler will only crawl up to 150 pages in the free version. So, you won't be able to see any errors beyond the 150 pages that the crawler doesn't crawl.
But even with that, fixing these major issues will help you to rank better in the search engine.
Keep in mind that you won't get the result overnight even if you do what Ubersuggest suggested you do.
Improving your rank and your website's discoverability takes time, especially if you use competitive keywords to optimize your website.
Think that you have no idea how to fix those errors? Ubersuggest even gives you an explanation of how you can fix the errors yourself.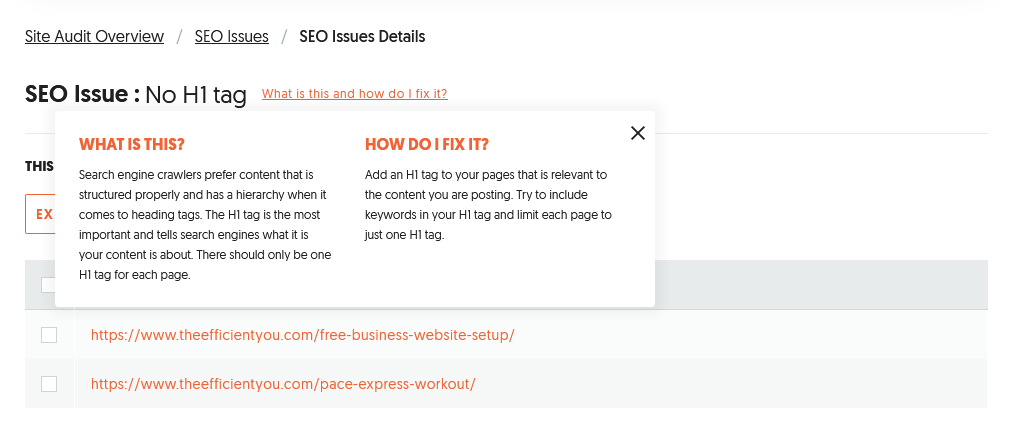 If you have a hard time understanding the terms used in Ubersuggest, then I highly recommend that you have a look at SEO Unlocked course.
What I love about the course is that it not only the course breaks down the SEO fundamentals and teaches you how to do the on-page SEO the right way.
But it also teaches you how to make full use of Ubersuggest and other tools such as Google Search Console.
And the best part of all? The course is free.
Who should be using Ubersuggest?
If you're looking for a keyword research tool that takes the guesswork out of finding profitable and clickable keywords, then Ubersuggest is for you.
Want to give Ubersuggest a test drive? You can get started with it right here:
Will I be upgrading to Ubersuggest paid plan?
The answer is yes. SEO is my main strategy when it comes to driving traffic to my websites.
Whether I'm using it to find the keywords that I can use to optimize my websites or blog posts, Ubersuggest is essential in my workflow.
Since I already know what Ubersuggest can do despite locking some of the features behind the paywall, there's no doubt that I will upgrade my plan to the paid plan someday.
It's worth considering upgrading to the paid plan if it can improve my website overall for the better.
P.S. There's no doubt that social media can also be another source of traffic to your website other than SEO. But we all know that social media, especially Twitter, can be a time-suck for many of us.
Wondering how you can make full use of Twitter without taking too much of your time? You can learn all the things you need to know about using Twitter the right way with my Twitter Marketing for Business guide.
You can take a look at the guide right here on my Payhip store:
Twitter Marketing for Business
Interested in getting the guide? Don't forget to use the coupon code THEEFFICIENTYOUBLOG during checkout to get 20% off on your purchase.
Love what The Efficient You has to offer?
If you find any of the guides or posts on this website useful, consider supporting me on Buy Me a Coffee. With a one-time minimum fee of $5, I can continue to provide more free resources for people like you who'd like to become full-time authors. You can also support this website monthly or annually if you feel generous. Any amounts count!