Just to let you know that the original post about Grammarly Free Version was published on March 22, 2016. But the post was updated on December 18, 2020, with the new screenshots and also the new feature for Grammarly Free Version.
It doesn't matter what you write, it's important to check your grammar and your typo before you hit the publish button. This is so true for authors because your writing is the main focus of your brand.
Imagine what your readers think when they notice that your sentences sound awkward because of the wrong grammar. And they dismiss you for being unprofessional because you don't even double check that you have typos in your writing.
But then again, grammar mistakes and typos tend to slip under the radar despite your best effort to proofread every single line. What's even worse, you will only realize the mistakes once you hit the publish button.
Yes, I've been in this situation many times.
So, things like free grammar check online help me with my proofreading process. The one that I'm currently using right now is Grammarly Free Version.
Grammarly, the free grammar check online
I knew about Grammarly not from the writer community, but from a blog dedicated to helping fashion blogger, Independent Fashion Blogger.
Yes, I know. Sometimes, helps can come in many different ways and in the least places you expect.
Since English isn't my native language, Grammarly seems like a heaven sent to me because it will help me to fix my grammar mistakes and typos with a click of a button.
Who doesn't want something so awesome, especially if it can automate the proofreading for us, right?
You see, my problem isn't so much to do with typos. Rather, my problem is more about grammar. What seems correct to me isn't actually correct based on the grammar rules. Well, I didn't know that since it was hard to tell. And I'm pretty sure that I'm not the only who experience something like this.
As a recommendation from Jennine Jacob, the founder of IFB, I've decided to give Grammarly a try.
Grammarly Free version test drive
Here's how to use Grammarly to fix your grammar mistakes and typos. In this demo, I'm using Grammarly for the Firefox plugin which is available for free. Grammarly Basic is free which allows you to fix grammar mistakes and typos.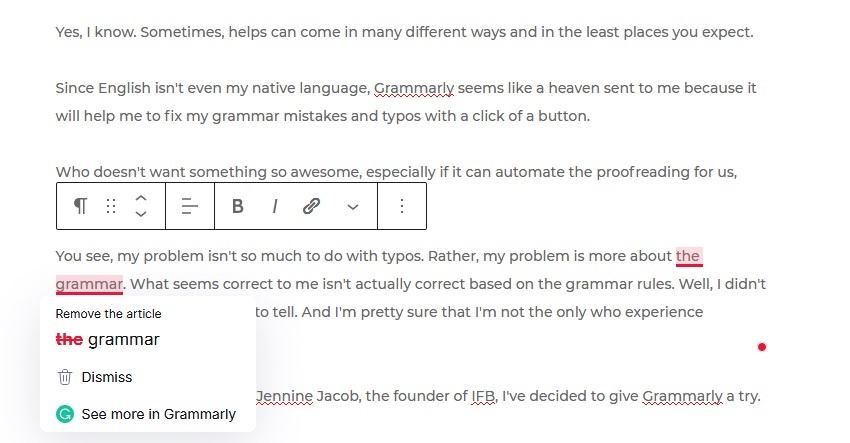 When you make a mistake, Grammarly will highlight the mistake and tells you exactly what sort of mistake you make. In this case, my mistake is adding 'the' article in the sentence.
Once I click on the mistake, it will correct the mistake automatically for me.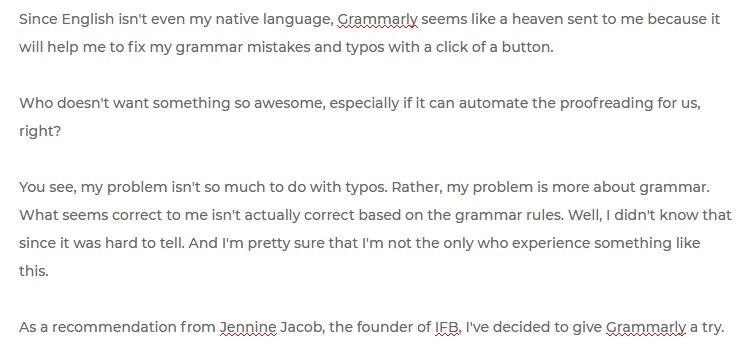 You can also upload your document on Grammarly and let it check on the mistakes for you too. Just open Grammarly on your browser and upload your document there.
Have a full version of Microsoft Word? You can also install Grammarly Extension for Microsoft Word which is available for free.
Unlike the Grammarly Extension for Chrome or Firefox, you can get an in-depth analysis of your writing when you open Grammarly on your browser.
Wondering about the tone of your writing? Grammarly can do that for you too. In this case, the tone of this blog post is neutral.
Strangely enough, the tone checking feature tends to detect the sentence block-by-block rather than the overall tone of the blog post. That seems to be the case if you're using self-hosted WordPress.
If you're using Divi Theme like me, I highly recommend you to switch to Divi Builder if you want more accurate assessment on the tone of your writing.
Write something complex? Then go premium
While Grammarly is available for free, the free version can only help you with fixing grammar issues and typos. If you write something complex like a research paper or you want Grammarly to help you with the copyediting process, then I highly recommend you to get the premium version.
The premium version allows you to:
Get customized check
Fix complex sentences
Find sentence structure and writing style issues
Give suggestions for more effective vocabulary usage
If you'd like to get the premium version of Grammarly, you can get it here:
Once you've signed up for the free version, you can choose to upgrade within your Grammarly dashboard. You can choose to pay monthly or annually for the upgrade.
My honest thought about Grammarly Free Version
Personally, I enjoy using Grammarly Free Version because it helps me with fixing my grammar. As an author and someone who is a non-native English speaker, grammar is something that I tend to struggle, especially when I don't even know whether it's correct or not according to the grammar rules.
After using Grammarly for quite some time, I do notice that some mistakes aren't detected by Grammarly. I don't know why, but I don't expect tools like Grammarly to be a perfect tool.
Despite the harsh critics that I've read online about Grammarly, I still recommend people to use it because it can catch mistakes that we don't notice. For me, it's better to have something that can help with your copyediting and proofreading than not having anything at all.
So, is Grammarly Free Version a perfect solution for those who doesn't want to hire a proofreader for their work?
All I can say is you still need to do a manual proofreading for your work. That means you still need to print your manuscript and mark the mistakes with a red pen.
But when you combine Grammarly with manual proofreading, you save a lot of times correcting your mistakes. At least, Grammarly is able to keep your mistakes to a minimal.
Again, it doesn't cost you anything to sign up since the Grammarly basic version is free. So, if you'd like to give Grammarly a try, you can sign up here:
Over to you
What do you think about Grammarly? Are you interested in giving the free version of Grammarly a try after reading about it on my blog? Let me know in the comment below.
And if you already used Grammarly, feel free to share your experience with Grammarly in the comment too.